Born in 1934, Felipe Alonzo hails from Bantay, Ilocos Sur. He is well known in his community and is often seen performing around the city of Vigan during Christmas and town fiestas. He learned many of the songs when he was growing up performing in sarswelas, which he refers to as "entablados" - live comic operettas performed in the town plaza. In 1965, Mr. Alonzo, who is a self-taught guitarist, recorded Ilocano haranas for Villar Records.
Mr. Alonzo passed away in March 2013. He was 78.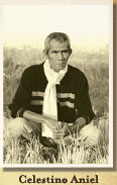 Celestino Aniel was born in 1946 in the town of Naic, Cavite. Mr. Aniel learned many popular songs through the radio and recordings from the 1950s to the 1970s such as those of Ruben Tagalog, Larry Miranda, Ric Manrique, Jr. and Cenon Lagman. Aniel's singing style is also a nod to popular crooners such as Bing Crosby, Nat King Cole and Perry Como, a style that was adopted and incorporated into harana during American occupation in the 1940s. Mr. Aniel is often seen singing around his hometown for friends and small gatherings.
Mr. Aniel passed away in September 2012. He was 66.
Born 1946 in Maragondon, Cavite, Romeo Bergunio recently won first place in a harana singing contest for seniors in his hometown. He learned from his father and grandfather many olden and unknown songs not often heard on the radio, thus preserving the songs completely through oral tradition. He specializes in kundiman songs - both in its rudimentary form as well as the more formalized structure championed by Philippine composers such as Nicanor Abelardo.
Mr. Bergunio has recently retired after years of making his livelihood as a fisherman because "there are no more fish to be caught" in the rivers and open waters.